Free&News

Processing of Chinese Medicinals 5
Stir-frying
Stir-frying is tossing materials in heated wok. It is important to know that stir-frying in medicinal processing, unless expressly specified, uses no oil. There are different degrees of stir-frying: stir-frying until yellow, scorch-frying and char-frying. Some pharmacies now use small toaster ovens instead of the more traditional stir-frying technique.
Stir-frying until yellow is stir-frying until the surface of the materials turns slightly yellow or gives off an aroma.
Stir-frying medicinals with soil, bran or rice can reduce their tendency to cause irritation and enhance their effectiveness. For example, this technique is used in soil-fried Baizhu (Atractylodis Macrocephalae Rhizoma), bran-fried Zhiqiao (Aurantii Fructus) and rice-fried Banmao (Mylabris).
Stir-frying in sand, in Huashi (Talcum) or in Haigefen (Meretricis seu Cyclinae Concha) insures that materials are heated evenly and become brittle. This process ensures that their active ingredients are brought out in decoction or makes them easier to take. Examples are sand-fried Chuanshanjia (Manis Squama) and Ejiao (Asini Corri Colla) fried with clamshell powder.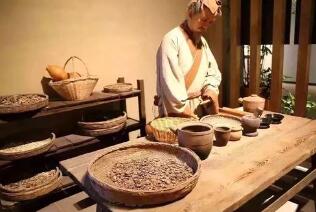 International acupuncture education